Welcome
Graves Derma Care PC provides medical treatments for acne, rosacea, eczema, psoriasis, vitiligio, skin cancer, and many other problematic skin conditions for patients of all ages and all skin types. In addition to dermatologic medical services, Graves Derma Care offers a full range of aesthetic cosmetic services including Botox injections, dermal fillers, facials, chemical peels, microdermabrasion, and laser hair removal.
Our Mission
At Graves Derma Care PC, it is our mission to provide the highest quality of medical, surgical, and aesthetic/cosmetic dermatological services to help patients look and feel their best. With the direction and expertise of Dr. Vaughan Graves, highly trained medical and administrative staff, we provide the most advanced technologies to benefit our patients within the environment of a state-of-the-art dermatology office. Through our professional, compassionate, and caring staff members, which are comprised of a Physician Assistant and certified medical assistants and managers; our goal is to ensure every treatment is uniquely tailored to meet each individual patient's needs for skin treatments and help them to achieve beautiful their personal vision of beauty.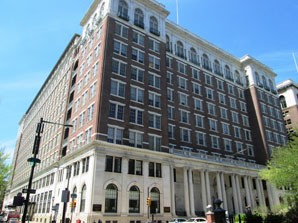 Graves Derma Care Center is located in The Curtis Center.
601 Walnut Street
Suite L-90
Philadelphia, PA 19106
Map
Directions