Meet Dr. Graves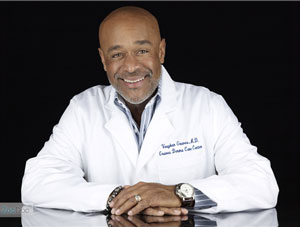 Dr. Vaughan Graves is the founder and director of Graves Derma Care Center and nationally recognized leader, educator and consultant in the field of dermatology. Dr. Graves has practiced dermatology for over 30 years and has become renowned for his expertise in the treatment of "skin of color" in cosmetic and medical dermatology. Throughout his career, Dr. Graves has lectured extensively and authored articles pertaining to the approach of "skin of color" patient treatments in both professional and consumer literature. He has served as an expert and consultant to various companies that offer the latest advancements and products for the dermatology and cosmetic arena.
Dr. Graves is an advocate for educating the public and has been a guest of a number of radio stations and is frequently quoted as an expert in dermatology in consumer journals.
In addition to his dermatology practice, Dr. Graves has a functional and regenerative/anti-aging medical practice, Ultimate Vitality Center. In his dermatology practice, Dr. Graves applies the principle of metabolic medicine and preventative care to effectivly treat general dermatologic conditions such as hair loss, eczema, facial hair growth (in women) and age-related skin conditions.
Dr Graves's priority has and always will be his patients. He believes strongly in balancing innovative and up-to-date medical knowledge with a comforting and supportive doctor-patient relationship.
Dr. Graves is a member of the American Academy of Dermatology, American Medical Association, National Medical Association, Contact Dermatitis Society and the American Academy of Anti-Aging Medicine. He graduated from Temple University Medical School and was trained in Internal Medicine at New York Columbia Medical Center and Harlem Hospital. He completed his Dermatology residency at Temple University Skin and Cancer Hospital.
As native of Philadelphia, Pennsylvania, Dr. Graves continues to serve the Greater Philadelphia and the tri-state area with the best in medical and cosmetic dermatologic services.